NEW! NEW! NEW!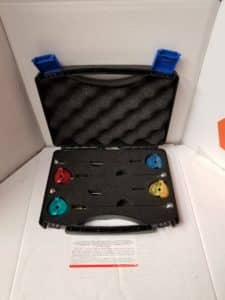 NEW! NEW! NEW!
Never be without the Aircap set you need on the job!  With this New Fuji Carry case you can have all the needles you need at the tip of your fingertips, no mater what job you have to tackle
Bathtub Refinishing, Tile Reglazing and Countertop Resurfacing, Supplies & Training
Cogent Coatings is the fastest growing manufacturer of bathtub, tile refinishing coatings. these chemical resins and paints have been developed by a joint effort between bathtub refinishers and chemists to produce the most durable and easy to apply bathtub coating on the market to date. this bathtub and tile refinishing system is custom engineered. Easy to apply and gets the job done efficiently. Cogent Coatings offers the finest acrylic urethane bathtub refinishing supplies and paints  which are used for commercial, residential, and industrial settings with ease.
Already a bathtub refinishing company? Try our start-up kit for tub and tile reglazing tub and tile reglazing, it has all of the products you need to reglaze and refinish up to 10 tubs with ease. Not a bathtub refinisher? Schedule our 3 day bathtub refinishing training and get the experience you need to start your business. Cogent Coatings offers a training program, giving trainees the confidence and equipment to be experts in the art of Bathtub, tile and countertop refinishing and tile refinishing. students will receive hands-on training from professionals with over 40 years of combined experience. Demand the best Call COGENT Coatings.
google7c7c51fb7f02c840.html