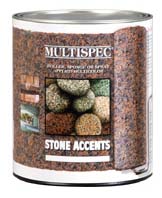 Buy MULTISPEC
What is Multicolor Paint?
This uniquely decorative paint consists of individual flecks of different colors, subtly blended to achieve the natural appearance of such materials as granite, cork, leather and stone.
The Multispec brand of multicolor paint has several patented processes that hold flecks of similar size in a constant suspension containing specific, fleck-to-fleck percentages. The result is a finish with a consistent pattern of randomly distributed flecks.
ABOUT MULTICOLOR SPECIALTIES, INC. MSI operates two manufacturing plants, one research laboratory and two color development laboratories specializing in multicolor coatings and other special appearance finishes. Multispec architectural products are marketed nationally through an extensive network of contractor-oriented independent paint dealers and paint store chains.
MSI is positioned as one of the most innovative manufacturers of multicolor coatings. MSI has a broad line of versatile architectural multicolors designed to meet or exceed present and future environmental regulations.
MSI also pioneered the development of computer software to help color specifiers readily visualize custom multicolor blends.
MSI is the originator of aerosol multicolor and the first to offer: a user-friendly shelf-stable multicolor paint for easy one-step airless spray application, Multispec Fine Fleck; a urethane-modified low V.O.C. water-in-water multicolor suitable for interior applications, Multispec WaterBorne; a roller-applied textured multicolor paint, Multispec Speckle Effects Accents and Speckle Effects Walltones.
Multicolor Specialties, Inc. (MSI) is a research-driven company responsible for a variety of unique state-of-the-art products for architectural, industrial and consumer multicolor applications.
MULTISPEC
Multispec Spray Application
for Smooth Interior Walls
Step 1: Required – Prep and Prime
Clean surface thoroughly. Using a roller, brush or appropriate spray equipment, prime with a top quality Epoxy primer/sealer.
Step 2: Required – Apply Multispec
Using Fuji HVLP spray equipment, spray apply Multispec in one step, cross hatching surface to achieve full-coat coverage and a smooth, even application. See detailed Multispec Spray Equipment Guidelines.
Step 3: Optional – Apply Clear Topcoat
Apply 2 to 3 coats of high performance, clear protective topcoat such as Cogent Coatings Clear coat. First coat will seal Multispec to facilitate subsequent cleaning. Second and third coats will enhance durability and/or impart more gloss. clear coat is available in a low sheen finish, well-suited for interior walls.
Note:
For best results when applying Multispec over new unpainted drywall, first apply Universal Primer. New drywall is often manufactured from recycled materials containing ink, which can bleed out and stain or discolor Multispec.
Allow individual coats to dry thoroughly before recoating.
Follow manufacturer's detailed label instructions and application guidelines for coatings, equipment and tools.
For a textured finish; roller apply Multispec. Refer to roller application guidelines.
– Shop MULTISPEC