Description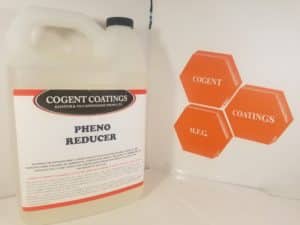 Cogent coatings Pheno eco primer is an innovative safe alternative to methylene chloride. due to recent regulation, the EPA has been limiting the use of methylene chloride for use with bathtub refinishing due to several deaths caused by the products containing it. therefore, they are looking to ban the chemical altogether along with other effective stripping agents. Leaving bathtub refinishers with no way to complete the job effectively.
The reason bathtub refinishers use products containing methylene chloride is because until now it was the only way to do a reservice on a previously refinished bathtub.
Bathtub refinishing resins and additives are considered "HOT". This means that when the resins and additives are applied over previously refinished surfaces the tend to pucker or wrinkle the old glaze. When Strippers are use, it eliminates that issue but creates a dangerously deadly environment for the person using it.
Cogent coatings have developed a "COLD" primer that eliminates the need for stripping by creating a barrier between the refinished coating and the new HOT coating. Pheno eliminates any tendency to pucker or wrinkle when used properly.